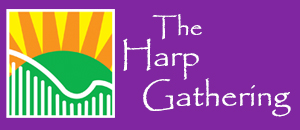 Workshops
Nicolas Carter
Storytelling and the Harp
The harp is the magical instrument of the heart, that brings warmth to any intimate gathering… and a powerful tool to enhance the mood and ambience of live storytelling. Nicolas has worked as an educator and storyteller for years and is the perfect harpist to teach this unique class. His passion will bring a new dimension to your "harp life." Imagine using the harp, telling stories to your children or grandchildren, making memories to warm their hearts through the joyful moments and challenges in their future lives. Or using the harp to make storytelling come alive at schools, in home gatherings, at bookstores, or simply as an introduction to a tune before you play anywhere. With Nicolas's warm, affirming guidance, you will surprise yourself by improvising melodies and creating sounds with your harp to accompany a story. This is a workshop to relax and simply enjoy what your hands can create. It's a workshop about connecting with others with a text, and opening up creativity with yourself. Bring a harp and a brief story to share. All Levels.

Learning Latin American style waltz: "Luna LLena"
This workshop will introduce a beautiful waltz by Digno Garcia, one of Paraguay's most influential harp composers. This song is a great introduction to Latin style motifs and patterns and a great composition to develop some practical techniques. Intermediate level.

La Paloma (the Dove)
This beloved Cuban tune, along with "Yesterday" by the Beatles, is one of the most recorded songs in the history of music. When you play tunes people already love, you have them in the palm of your hand! La Paloma makes people feel romantic; a good tune to play for anyone. This tune can be easily adapted to small harp, so you can take it with you anywhere. In addition to teaching harp, Nicolas is a university theatre professor teaching acting, clowning, stage combat, and puppetry to adult theatre students. No wonder he's fun! Come learn a tune you'll play again and again. Harps tuned in C. Ideal for Beginners.
Robbin Gordon-Cartier
Let's Get It Started
Whether you are just getting started or want a fresh start at the harp, this class will give you all the tools and motivation you need to get going at the harp. The class will cover all the basics: finding the right harp for you, looking for a teacher, developing a practice routine, picking appropriate music, reviewing basic technique, and finding time to play the harp! Beginner level. Bring harp.

Let the Spirit Move You
What music fits where, how to know what denominations use what music and the different ways they are played. Be able to go from a synagogue to a Pentecostal church with ease and assurance. Let's explore arrangements, rules and repertoire. Intermediate to advanced. Bring harp.

Cartier's Renaissance Spa
Are you long overdue for a makeover or want to avoid getting stuck playing the same songs over and over. Have you found yourself in a musical rut? Let's explore ways to broaden your repertoire and spruce up what you already play! All levels. Bring harp.

Lever it up!
Are you limiting your playing to one key, no accidentals and certainly no lever slides? Come learn how to get the most out of your levers. This is a hands - on workshop designed to get you playing in many keys, modulating and even jazzing it up!! Intermediate to advanced. Bring harp.
Rachel Hair
Highland Heartbeat
Rachel was born and brought up in the Highlands of Scotland and her musical roots and heart, are very much still there. In this workshop she will musically transport you to the land of mountains, lochs and glens, as you learn some of her favourite Highland tunes on the harp. Intermediate & Advanced players.

Feel-good factor
There's nothing like a feel-good beautiful tune, and even better when it's easy to learn AND remember! Rachel has been responsible for sourcing and teaching several of the world's celtic harp viral triumphs, all of which are satisfying to learn tunes. So, come along to this working and learn the next future harp-hit! Open to any level that can play!

Session Secrets – a crash course on how to session with the harp!
The session can be a scary prospect at times for us harp players, so in this workshop we will both learn, and build on, the skills needed to session with confidence. We'll work on chord patterns and riffs for accompaniment, how to identify keys for tunes and how to change keys fast and effectively. All are welcome, ideal for players. Open to companions.

Scottish Ceilidh Dance Class
Something a bit different, a bit of gentle exercise, lots of fun and not just for harp players! Come learn some of Scotland's most popular ceilidh dances. Learn a few steps and movements and in no time you'll be billing round the floor. Wear light clothing and comfortable shoes. Open to Companions.


Denise Grupp-Verbon (TAPESTRY)
Essential Things (Thursday night)
What are those essentials to being a harpist and a musician? Join us for an evening of essential, useful and fun tips and conversation.

Sight Reading Tool Chest
Are you a beginning or non-music reader? You will gather practical sight-reading tools and become more proficient at your reading. Perhaps you'd like to be better at reading the grand staff. All levels welcome, bringing your harp will be helpful.

Arranging for Fun
Would you like to create an arrangement of a melody, but you don't know where to start? Don't know what those funny letters, and numbers are above the staff? Join us for introductory tips on creating your own arrangements and how to read a lead sheet. All levels.
Sharon & Dave Thormahlen
Sharon Thormahlen:
Music Theory/Chord Improvising
In this workshop you will become very familiar with what notes make up a chord and how to use them for an improvisation. There's plenty of practice so you gain mastery of 3 note chord inversions. We will use play pattern finger shapes to build on improvisational possibilities. Late beginner to intermediate.

Pick a Chord, Any Chord
When learning a song from a lead sheet with only the melody line, it can be challenging to figure out what chords to play with your left hand. In this workshop, Sharon will provide practical tips to help you figure out what chords go with the melody. You will learn what the "chord family" is and how to use it. Late beginner to intermediate.

Dave Thormahlen:
Harp Maintenance
Includes lever regulation, repairing small dings, locating the elusive buzz, tuning pin issues, weather and humidity, and cleaning your harp. Bring questions. This workshop is good for all harpists and open to companions.
Frank Voltz
Inspired Composing for the Harp
Composing for the harp is a two-step process. First you need to compose your creation. We will discuss various methods of composing as well as discover Frank's unique approach to writing a composition. Secondly, you need to transcribe your music correctly so that it is easy to read and easy to play. Oftentimes, the difference between a good composition and a great composition is how well the composer understands and applies proper transcription techniques. We will conclude the workshop with a "composition by committee," that is, the attendees will collaborate on musical ideas and together we will create an original composition using the concepts presented in the workshop. All levels.

Building Your Harp Ministry
When we think of heaven, we think of angels playing gilded harps all the time giving glory to God. Well, why can't we do the same on earth? We can! The first time most people play their harp in public, it is usually in church. How do you keep the momentum going so that you can come back and play again, or continue playing in churches all around town? We will discover many approaches, possibilities, and opportunities to performing in church, how to create a varied and interesting program, and how to "discuss" compensation (if you're not volunteering). ALL LEVELS – No Harp Required

You've Got Rhythm
This hands-on workshop will start with the basic building blocks of rhythm (time signatures, notes, rests, beats, etc.) and move into different rhythmic patterns. We'll learn the value of rhythmic patterns in the left hand for playing lead sheets, and once you get the hang of that, we'll explore rhythms of other musical traditions including Latin music. Some will be easy and some will be challenging. We will discover the fun of syncopation, complex rhythms, and conducting patterns. There will be lots of clapping and tapping, and you'll be able to immediately translate these rhythmic concepts to the harp, so bring along your instrument. By the end of class, you'll be excited about rhythms—both old and new—and you'll be able to apply what you've learned to your playing. ALL LEVELS


Joy Slavens
Artistry in Music
What? Paint a picture with our music? Music is much more than notes on a page. It is not just playing from the beginning to the end of a piece and deciding our piece is ready for the world! We want to create many colors and moods in our piece so the listener is moved by our music. In this class you will learn to have contrasting dynamics, rise and fall in our melody line, identifying phrases, tone balance, playing rubato and the hardest of all interpretation. It is great to be able to play the harp, but is fantastic to play with passion and artistry! This class encourages creativity, imagination and yes…. a piece of music is our work of art! Harp needed. Late beginner through all levels.

Succeeding with Beginners – Calling all teachers!!
We teach, but are we successful in what we are teaching? Do we keep our students long term? Have you wondered what to teach, how to teach, materials to use? Maybe we are even "bored" with our own teaching. This class is for the experienced teacher that could use some fresh ideas, or maybe you are thinking of teaching for the first time. We will talk about the difference in teaching children and adults; while focusing on aspects of teaching such as which materials to use, note reading, counting, technique, basic theory, practice plans, contracts, payment plans and so much more! I wish I had attended a class for teachers when I began teaching! All levels welcome, harp needed.
Lee Timer
Seeing Double
What is it about double-strung harps? Why are more and more harpers beginning to embrace this beautiful instrument? Why are harp builders adding these harps to their instrument offerings? And…HOW DO YOU SEE ALL THOSE STRINGS? If any of these questions have crossed your mind…or if you are just curious about the the double-strung harp…this is the place for you! You will meet a double - strung harp…to touch, strum and hear its voice. And YES…to SEE DOUBLE! This is an exciting place to explore, with gentle guidance and humor, the joy of the double-strung harp! Our time together will be part demo, part hands-on. You will learn about the easy and special things that only a double-strung can do, which sound difficult! Several double-strung harps will be available for participants to try! All Levels.
Carmen Roebke
Those Fabulous Fifths!!!
Music theory is just a jigsaw puzzle and the more pieces you have the better picture you can create! This workshop will concentrate on helping you to recognize the pieces you already have and give you creative ideas about how to put them together. Using the Circle of Fifths as the "border pieces" we will explore how this information can inform and expand your playing whether you wish to read music better or learn tunes by ear more easily. For those who are new to music theory or those who would like to review some basics. The concepts will be presented in both standard and ABC notation. Bring your harp! Beginning to Intermediate.
Tammy Willcox
Friday and Saturday Night Jam Sessions
First priority will be 'FUN'! Attendees are encouraged to bring tunes they wish to share with the group as well as other instruments besides the harp. We will start after the post-concert receptions on Friday and Saturday nights. If you've never played in a jam session, never fear! Tammy will walk you through it. And of course, there is always room for an audience! The session will welcome players of any level. There will be handouts. Please bring a music stand and tuned harp. Open to companions.

Kim Adamson
Half notes and quarters and eighths – Oh My!
And what is with those pesky dots? Come and discover the meaning of time signatures and note values; whole, half, quarter, eighth, and even sixteenths, fit in to them. We will learn tips on how to read this part of the music and how to feel it before we play the notes. Bring a pencil and your harp if you have it. Beginners and questions welcome.