Presenters
Nicolas Carter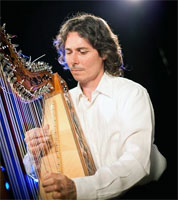 Nicolas Carter is a talented and versatile International harpist, born in Minnesota and raised in Paraguay where he learned to play the Paraguayan harp. Carter creates unique performances blending his musicianship with his skills as a theatre artist/storyteller. His authentic, warm and friendly interaction creates an intimate experience bringing inspiration, motivation and joy. Carter has been composing, recording, teaching and performing for over 25 years and has played all over United States, Latin America, Europe and Israel. Carter currently resides in White Plains, New York. Website




Robbin Gordon-Cartier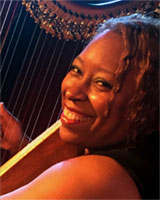 Robbin Gordon-Cartier teaches a harp program in the East Orange School District at the Cicely L. Tyson School of Performing and Fine Arts. Mrs. Gordon-Cartier performs regularly in the New York metropolitan area with credits including appearances at Carnegie Hall and Alice Tully Hall in New York City; the New Jersey Performing Arts Center; the Pablo Casals Music Festival in San Juan, Puerto Rico; and the National Symphony Orchestra of Santo Domingo, Dominican Republic. Robbin is a Salvi Concert Artist and has presented a week of master classes and concert at the French ambassador's residence in Bogoto, Columbia for the Salvi Harp Foundation. Robbin is a sought-after presenter of workshops across the country. She has a Bachelor of Arts Degree in Music Education and a Masters in Harp Performance from Montclair State University. Website



Rachel Hair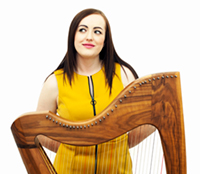 "A superb Highland Harper" (BBC Radio2) Rachel Hair is "One of the world's leading Scottish (harp) players" (UKHA) and has toured extensively throughout Europe, the USA and beyond. She has released 5 critically acclaimed albums, the most recent SPARKS with guitarist Ron Jappy. A world-renowned soloist and teacher, Rachel has performed and taught at numerous International harp festivals in the USA, New Zealand, Japan, Russia, and Europe, and has published 4 books of harp arrangements and compositions. Teaching by ear, she is passionate about sharing her music and curates each workshop with a focus on enjoyment and achievement. When not travelling, Rachel teaches harp at Scotland's National Centre of Excellence in Music at Douglas Academy and she journeys once a month to the Isle of Man where she teaches Manx celtic harp and directs the Manx harp ensemble Claasagh. Website


TAPESTRY
Denise & Michael Grupp-Verbon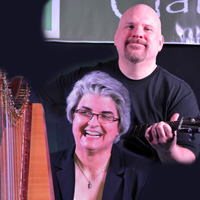 TAPESTRY, featuring Harpist Denise Grupp-Verbon and Acoustic Guitarist/Multi-Instrumentalist, Michael Grupp-Verbon, is based in Toledo Ohio. Performing and recording together for 20 years, Denise and Michael have created a truly distinctive sound featuring their unique arranging & composing. TAPESTRY has released 3 CDs, featuring Pop, Celtic, Folk and Original music. In addition, they have also published numerous arrangements and instructional books for solo harp. They perform for scores of concerts, weddings, corporate and private events annually. Michael is also a professional videographer and photographer, he specializes in video documentaries and landscape and wildlife photography. Denise is the Internship Manager for the School of Liberal Arts at Owens Community College in Toledo, Ohio. Denise and Mike are the founders of The Harp Gathering, now celebrating its 13th year. Website



Sharon & Dave Thormahlen
For 35 years Dave and Sharon Thormahlen have made their living creating music and musical instruments. Dave has built over 1650 instruments, mostly harps, but also guitars, mandolins and ukuleles. He earned a Master's degree in Geology from Oregon State Univ., but decided music would be a better way of life. Sharon has published 17 books of harp music and teaches harp in her Corvallis studio. She is on the board for the Int'l Society of Folk Harpers and Craftsman (ISFHC). Sharon graduated from Chico State in Calif. and was a Head Start teacher for 17 years. She started guitar when she was 12 and played bass in a band called The Swing Beans; with Dave on mandolin and two others on violin and guitar before learning the harp. She and Dave play together most every evening and perform in area restaurants and retirement homes playing Celtic, Latin, Pop, and Sharon's original compositions. Website



Frank Voltz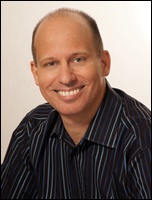 Frank began playing the harp as an adult. After playing the harp for only 5 years, he competed and won Second Prize in the Lyon & Healy International Jazz and Pop Harp Competition, Lever Harp Division. For the past 20 years, he has been guest clinician and performing artist at various harp festivals and conferences in the United States and Canada. Since moving to Winston-Salem, NC in 2009, he has performed on several occasions with the Winston-Salem Symphony, Greensboro Symphony, and the Piedmont Wind Symphony. In 2016, he performed at the American Harp Society (AHS) National Conference in Atlanta, GA. Frank has recorded five harp CDs and two piano CDs. He has published nearly 100 hymn arrangements, ensemble arrangements, and original compositions for pedal and lever harp through his music publishing company, Chiera Music. His music has been recorded by many harpists around the world. Website


Joy Slavens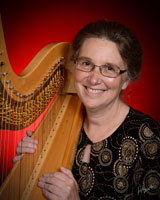 Joy Slavens grew up in Trappe, Maryland, graduated from Penn View Bible Institute, and has lived in Sussex County, DE with her husband since 1988. Joy began studying piano at age seven and became fascinated with the harp when a harpist performed at her church. She studied harp with Rebecca Smith of Crofton, MD for eight years. Joy has been giving lessons for more than twenty-five years, and has over 35 piano and harp students. She is on staff at St. John's U.M. Church in Seaford, DE as church accompanist and assistant music director. Joy loves to create new arrangements of many styles of music, and writes original compositions and publishes her music which is sold throughout the U.S., and has been favorably reviewed by harp publications. Her harp ensemble, Expressions of Joy, performs several times a year for churches, libraries, retirement communities. Website



Lee Timer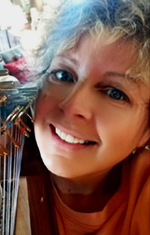 Lee Timer is a multi-instrumentalist who began playing the double-strung harp 25 years ago. (In fact, a double-strung harp was her very first harp!) Lee writes music, creates unique arrangements and shares her love of double-strung harp wherever she plays. Lee teaches harp at her farm in Michigan, and she is currently perusing her CCM (Certified Clinical Musician) endorsement via the Harp for Healing Program. You can follow Lee's progress to become a Healing Musician via her blog: Harp and Song in the Mitten. Website






Carmen Roebke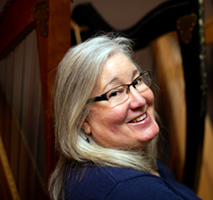 Carmen Roebke has been playing stringed instruments since she was 8 years old. She holds a BME from University of Northern Colorado and a MM from Kent State University in String Pedagogy. Discovering the magic of the lever harp in mid-life reinvigorated her love of making music and her appreciation of her undergraduate music theory classes. Serving as Diocesan Director for Campus Ministry and as a Pastoral Minister at the Kent Newman Center, she plays harp for liturgies and cooks often for parish events. She continues to maintain an active violin/viola studio in her home in Kent, where she lives in community with her husband of 25 years, John, her mother-in-law, Linda, and two cats, Cordelia and Henrietta.




Tammy Willcox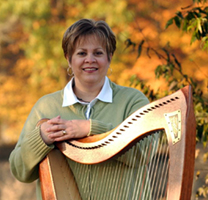 Multi-instrumentalist and Oklahoma Cowgirl, Tammy Willcox, began her study of music at an early age, later specializing in Bluegrass and Celtic music. She has an active solo and ensemble performing career, teaches harp, guitar and piano in her home studio and has produced a number of music festivals. She plays with Harpe Diem, an ensemble with Brenda Bowen Cox and Julie Jasper. Tammy has served in a variety of administrative roles in the arts community in and around Miami, Oklahoma, and does volunteer work at the Miami hospital and local retirement facilities. She and her husband have volunteered the past 20 years at Horses of Hope, an equine assisted therapeutic riding center.





Kim Adamson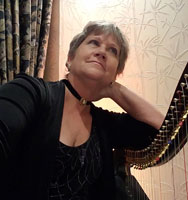 Kim Adamson has played several different instruments over the years from French horn, banjo, mountain dulcimer and others in addition to the harp. Since the year 2000 she has been working with several harp festivals, including the last ISFHC Harp Con in St. Louis and the last 10 years here as Director of Operations of the Harp Gathering. She currently provides background music for private functions and weddings, as well as teaching beginner harp lessons in and around Marco Island, FL. She was also a CMP and provided therapeutic music at the bedside in hospitals and Hospice for several years.