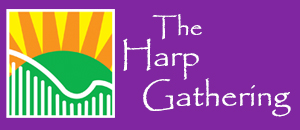 FAQs
General Questions:

Q: What exactly is The Harp Gathering?
A: The Harp Gathering is your chance to get together in an intimate setting with other harpers and harpists; enjoying concerts, workshops, camaraderie and just plain relaxation!

Q: What is the cost to attend The Harp Gathering and what is included in the registration fee?
A: The registration form has all the information.

Q: I would like to pay with a credit card, how can I accomplish this?
A: Just give us a call and we can process your credit card, eitheer by phone or we can send you an invoice through Square Up.

Q: Where will The Harp Gathering be held and where will I stay?
A: Located in Northwest Ohio, the Sauder Heritage Inn is a beautiful space, with large comfortable guest rooms, an indoor pool, hot tub, game rooms and exercise rooms. An upscale continental breakfast is served from 6 - 10 am and is included with your room. Ask for the special Harp Gathering rate when you make your reservation. In addition, the village also has a campground within walking distance to the Inn.

Q: Will the exhibit hall be open to non-registrants?
A: Yes, the vendor hall is open to all. No charge.

Q: Will individual concert tickets be available to non-registrants?
A: Yes, provided space is available, individual tickets will be $15.00 each and can only be purchased at the door.

Q: I will be traveling with a companion, what is the companion cost and what is included in the companion registration?
A: The registration form has all the information. There are certain workshops which are open to companions.

Q: What if I'm traveling with a companion who is not interested in attending any workshops or concerts, but would like a ticket to the Friday evening meal, and the two meals on Saturday?
A: If you are traveling with family members or friends who will not be registered Harpists or Non~Harping Companions, extra packages for dinner on Friday, and lunch and dinner on Saturday, are only $ 69.00 each. Note: Dinner on Friday and Lunch and Dinner on Saturday are exclusive events for Harp Gathering Registrants, Companions, Exhibitors, Performers/Presenters and Meal Combo Ticket holders.

Q: How many can attend The Harp Gathering?
A: Space is limited, so sign up early so you won't be shut out!

Q: Should I bring my harp?
A: It's not required that you bring your harp, but there will be quite a few "hands-on" workshops where having your harp would be beneficial. You will need your harp to participate in the Ensemble Experience.

Q: What are the highlights of The Harp Gathering?
A: The Harp Gathering will feature an evening concert on Friday and Saturday nights and a late morning concert on Sunday, including a performance by the Harp Ensemble Experience participants. You will be able to attend a total of 6 different workshops (24 in total to choose from!), participate in the Harp Ensemble experience, and visit our various exhibitors.

Q: Can you tell me about the meals?
A: Beginning with dinner on Friday and continuing to breakfast on Sunday (breakfast is included with your sleeping room), all meals are included with your Harp Gathering registration. In Ohio, the Saturday evening dinner will be in The Barn Restaurant. A fine buffet will be served in this c. 1861 barn which was moved to the Village from Indiana.

Q: Can you tell me about the Harp Ensemble Experience?
A: Members of The Harp Gathering faculty are preparing new ensemble arrangements, especially for the festival. Ensemble Experience participants will have scheduled rehearsals and the option of performing on the Sunday morning concert. The Harp Ensemble Experience will be directed by Frank Voltz. The music can be ordered on your registration form and it will be mailed to you a couple of months before each festival. You can order the music on your Harp Gathering registration form.

Q: What can my family or companion do while I'm attending The Harp Gathering in Northwest Ohio?
A: Registered attendees and companions will get a special admission rate of $11 when visiting the Historic Sauder Village. Also, many other adventures await you in Northwest Ohio. In addition to visiting the Sauder Historic Village, here are a few links for your perusal.

Shopping:

Al-Meda Chocolates

Sauder Store and Outlet

Sauder Village Shops

Nature:

Golf Woods State Nature Preserve

Harrison Lake State Park

Lockport Covered Bridge

History:

Golf:

Ironwood Golf Club

Riverside Greens Golf Course

Sipping Wine:

Stoney Ridge Winery

Knotty Vines Winery

Toledo, Ohio:

Only an hour away, Toledo has with a world-class museum and zoo. Go to: www.dotoledo.org for more information.

You may know of the famous Toledo Mud Hens. For ticket information go to: www.mudhens.com